Our Siena College Learning Framework provides an excellent foundation for strong learning opportunities for our students. Our Learning Framework incorporates four necessary elements with the learner at the centre to ensure that every student can experience growth in their learning. Our Lesson Framework provides a shared understanding of the lesson structure, enabling students to effectively engage in their learning.
All classes have commenced by determining classroom expectations. These expectations are on the subject class page and provide an excellent opportunity for students and parents to revisit as required.
As part of providing a safe and collaborative learning environment, students are paired with a 'Positive Learning Partner' (PLP). This ensures all students engage in an environment that offers support and trust and develop skills of collaboration and respect for others.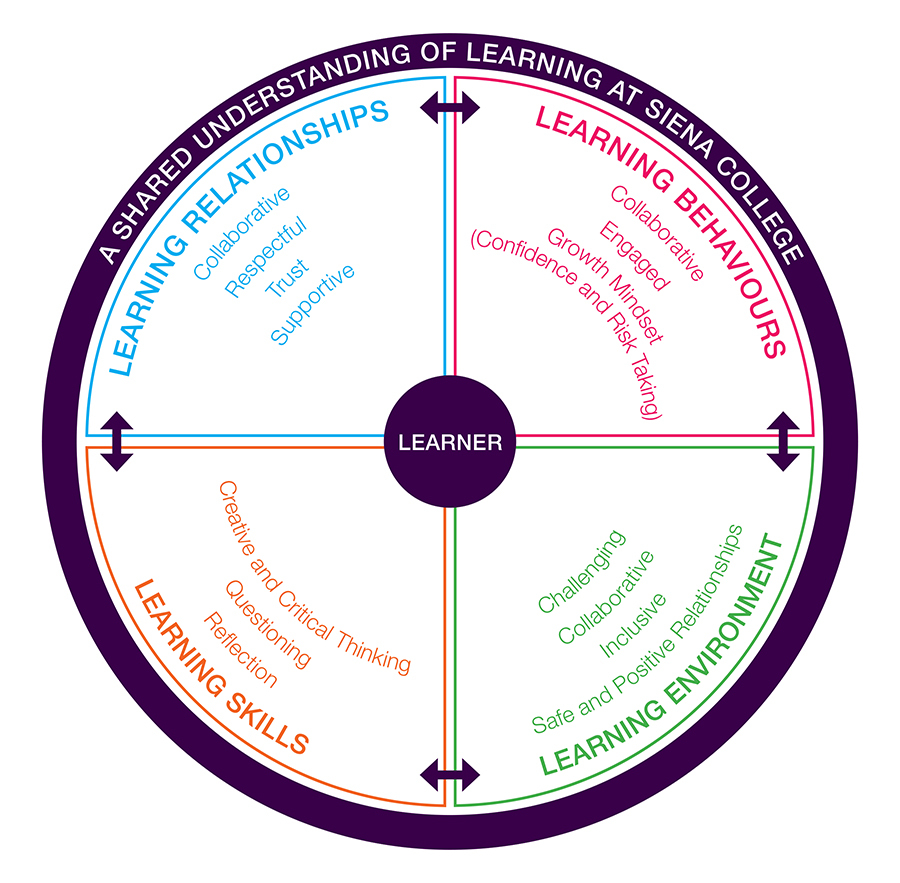 Home Learning at Siena College
Study is an integral aspect of the Dominican faith tradition. Home learning enables students to cement their classroom learning, solidify understanding and identify areas for further growth. Home learning also provides an opportunity for parents to work in partnership with their daughter's teachers to positively influence their daughter's education.
Amount of Home Learning / Study per Subject
Given the varying nature of subjects, home learning requirements will vary. Part of the learning process for students involves discernment and time management as they plan home learning. The following is a guide per year level regarding the amount of time that students should spend on home learning:
Year 7: 60-90 minutes per day, 50 minutes maximum per subject per week
Year 8: 60-90 minutes per day, 50 minutes maximum per subject per week
Year 9: 90 minutes per day, 50 minutes maximum per subject per week
Year 10: 90-120 minutes per day, 75 minutes maximum per subject per week
Year 11: 2-3 hours per day
Year 12: 3-4 hours per day
Student Responsibilities
In becoming independent learners, students are encouraged to:
• Use Siena Central to access class learning and to view home learning tasks daily
• Submit work that reflects their best effort and in which they have pride
• Complete and submit all work and assessment or apply for a 'Application for Change of Submission Date' form (assignments and tests only) by the due date
• Establish a regular home learning routine which includes:
- Accessing Siena Central to confirm Home Learning requirements
- Home Learning/study planner
- Due date calendar
- Regular study/revision of their class work to consolidate learning
- Dedicated learning space free of distraction
- Catching up on missed class work if absent
• Seek assistance from their subject teacher to clarify understanding of learning and task
• Communicate with the subject teacher prior to task due date where a lack of understanding prevents completion of task
Parent Responsibilities
Parents, as the primary educators of their children, are encouraged to:
• Provide an environment conducive to effective home study
• Help their daughter balance the amount of time spent completing home learning with engagement in leisure or recreational activities
• Assist their daughter in developing a home learning/study timetable
• Encourage their daughter to set aside a regular daily session to study/revise and complete home learning and assessment tasks by the due date
• Observe and acknowledge their daughter's success by asking how their home and class work is progressing
• Check Siena Central subject class pages regularly to monitor that home learning is being completed
• Encourage their daughter to exercise thoroughness and care in the completion of work
• Encourage their daughter to seek assistance from the teacher where lack of understanding exists
• Communicate with class teacher or Head of Student Wellbeing where appropriate
• Assist their daughter in determining responsible use of technology during Home Learning
A successful learning space should:
• Have a suitable desk and chair
• Be free of noise and distractions (such as the TV, iPhones, social media, other people, etc.)
• Be well organised, allowing easy access to resources and stationery
• Display a 2021 calendar with important dates such as due dates, assignments, key school events, etc.
• Be well lit and ventilated
The 'Application for Change of Assessment Date' form for tests or assignments is available on Siena Central in both the Student Zone and Parent Portal. If required, this must be submitted to the teacher prior to the due date of the task.
Year 7 Home Learning
The Year 7 Home Learning Guidelines assist our Year 7 Students in transitioning and settling into secondary school. Home Learning will commence for Year 7 students on Monday, 22 February 2021.
To assist Year 7 Students with assessment requirements, a Year 7 Academic Calendar will be compiled and published. This will be made accessible to all students and parents in the coming weeks via Siena Central News Digest. The Academic Calendar will provide an outline of the due week for Unit Assessment and whether the task is to be completed in class or at home.
Siena Central class pages and online feedback
Siena Central provides the opportunity for both students and parents to engage with the classroom learning. Parent access to their daughter's subject class pages enables direct access to daily classroom learning and home learning tasks. Students can access Subject Overview from the Course Page which outlines all unit topics and key assessment dates. This is a useful tool in assisting students to develop strong organisation skills.
Assessment Task Feedback is also communicated via Siena Central. Parents will receive an email alert when feedback has been uploaded. Please see the Parent User Guide available on the Parent Portal.
If you have any difficulties accessing the Parent Portal, please contact IT help at the College on 9835 0200 or ithelp@siena.vic.edu.au
Naplan
Online Naplan test dates for Year 7 and Year 9 students are Wednesday, 12 May to Friday, 14 May. More details will be communicated later in the term.