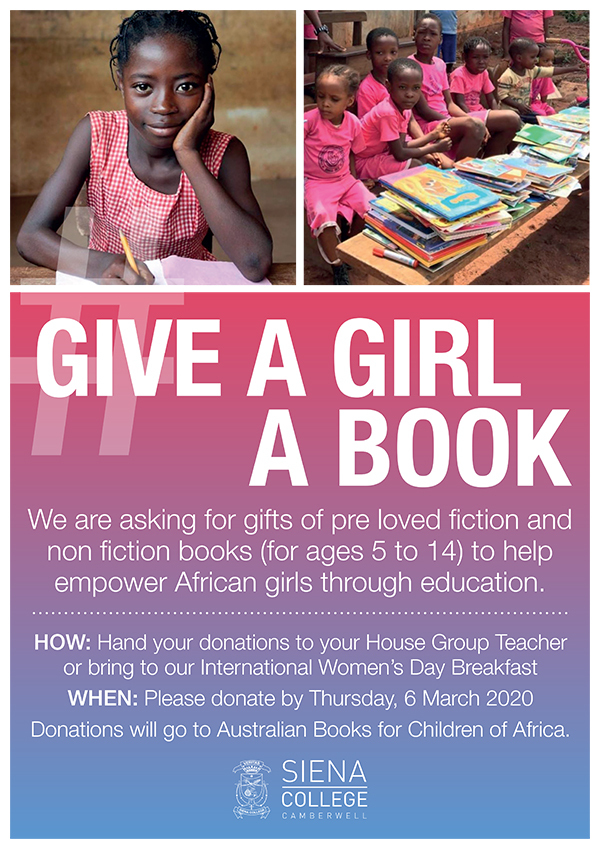 Change will not come if we wait for some other person or some other time. We are the ones we've been waiting for. We are the change that we seek.
As members of the Siena community, we are called, in the spirit of St Catherine and St Dominic to be outward focused seekers of Truth. In discovering of the Truth of our times, we should be unsettled, disturbed and moved to action.
Our current world context presents us with some unsettling Truths which provide us with the opportunity to reflect and consider how we will respond. Our Justice Education program at Siena provides students with numerous opportunities to engage with the world around them and to act in a way that reflects Gospel values and the principles of Catholic Social Teaching.
In 2020, our Senior students will once again have the opportunity to participate in the Street Retreat run by St Vincent de Paul. Each term, eight students accompanied by two members of staff, will work alongside the regular Vinnies volunteers who serve on the Soup Van providing meals for those experiencing homelessness in the city. Our students hand out toiletries donated by students and staff at the College and engage in conversations with the people they encounter. Watching students in this space is always a very rewarding and enriching experience. To see the warmth extended from our students and to see the increased ease in conversation as the night progresses is always such a gift.
This year, all students at the College will have the opportunity to contribute to Street Retreat through the donations of toiletries. Each Term, a House will be allocated and we will ask students to make donations in their House Groups. Suggestions for donations include:
Soap, body wash, deodorant, shampoo and conditioner, lip balm, baby wipes, sanitary pads, hand cream, body lotion. Donations of beanies, socks, gloves and scarves are also sought.
Term 1 – Dianella
Term 2 – Waratah
Term 3 – Cassia
Term 4 – Kurrajong
Donations will be coordinated by Hayley Di Stefano, our Leader of Social Welfare.
As in years past, Siena has support St Dominic's Parish Vinnies Chapter by assisting with sandwich making before school, once a fortnight. Groups of eight students across all year levels are invited to volunteer in this service opportunity. Students meet at St Dominic's Church at 7:45am each Tuesday fortnight and make sandwiches and sweet treats to accompany the Soup Van hot food items provided by Vinnies that night. Students are supervised by Siena staff at all times and return to school in time for the commencement of Period 1. Interested students should email Bronwyn Ilott at bilott@siena.vic.edu.au with their name and year level.
Another whole school initiative we are excited to support in 2020 is the #giveagirlabook campaign. This campaign is designed to provide books to female students in Africa. All Siena students will be asked to donate a pre loved fiction or non fiction book to this cause as an act of solidarity with girls in Africa, a recognition of their own privilege in gaining an education, and an opportunity to reflect on how books can truly change the world. Students will bring in their donations in House Groups. The #giveagirlabook campaign will be launched in the first week of March, in conjunction with International Women's Day events held throughout the College. Attendees at the International Women's Day Breakfast are also encouraged to make a donation. Baskets for donations will be made available at the Breakfast.
For too many girls in Uganda, books are a luxury. 'Books,' they told me, 'are more than just things made of paper and ink.' To turn the pages of a book meant gaining a vocabulary. It meant mastery of the English language and that meant a job. Which meant quieting their growling stomachs and paying for their siblings to stay in school.
Suzy Zail, author and coordinator of #giveagirlabook

For more information about #giveagirlabook, click here