AGSA International Women's Day Breakfast
"To kickstart International Women's Week, we were lucky enough to attend the International Women's Day Breakfast at the Queen's Hall, Parliament House. Organised by the Alliance of Girls' Schools Australasia, we were fortunate to hear from three inspiring women.
We first heard from Georgie Crozier MP, who spoke about women's representation in the Parliament, and how it is changing for the better. Next, we heard from Jess Wilson MP, who spoke about her how her team knocked on sixteen thousand doors around the Kew electorate, the importance of interpersonal relationships within the Parliament and as a leader.
Finally, we heard from Head of the Macroeconomic Conditions Division (Australian Treasury), Dr Angelia Grant. Angelia spoke about her experience as a woman in a male dominated field, and the fine balance of being respectful and having a voice. She also spoke about questioning your 'What?', 'How?' and 'Why?', and the ways in which our personal values can guide our 'How?'.
Overall, it was such a wonderful experience highlighting the power of women, and how we can all make a positive change."
Year 12 Student Leaders, Majella H, Hannah R, Jess H and Anita B
International Women's Day Student Artwork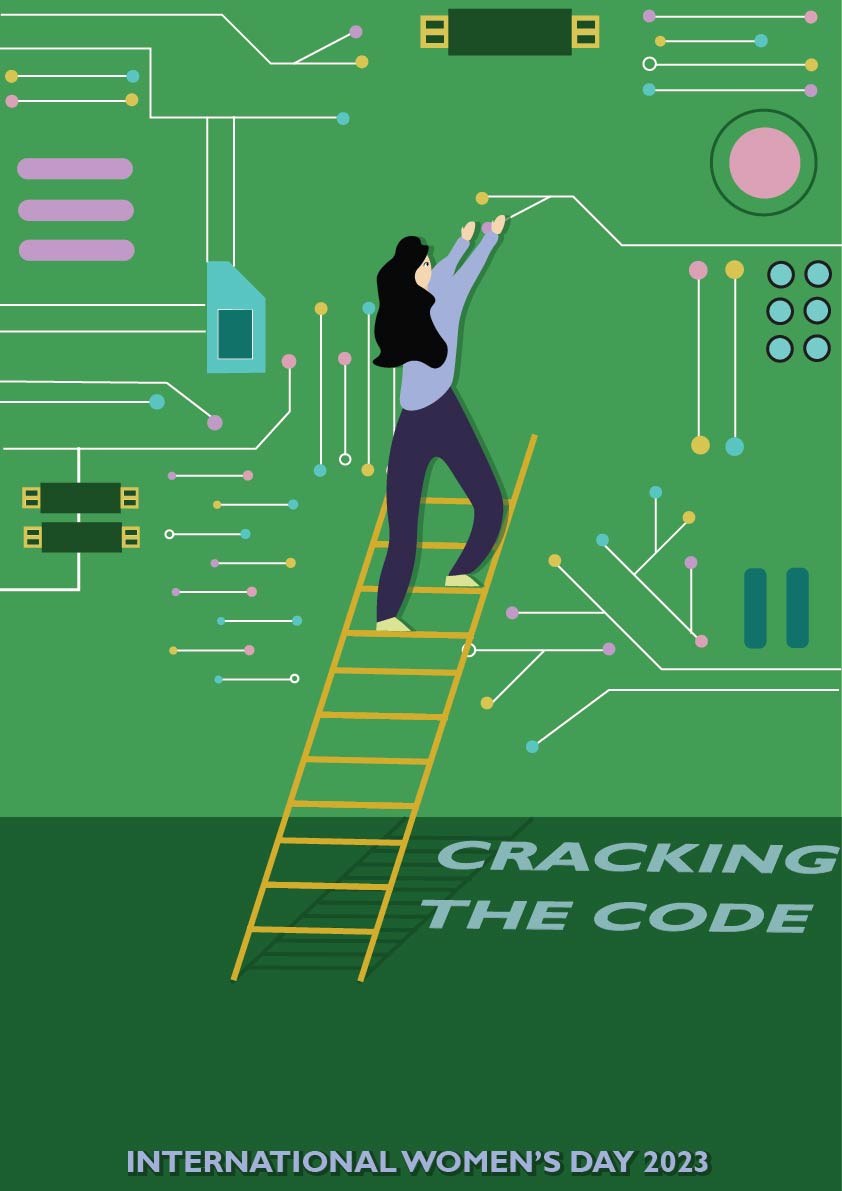 Design Rationale
"My International Women's Day artwork focuses on the representation of the empowerment of females through the innovation of technology and the digital world. I particularly looked to focus on the process of 'cracking the code' to champion the notions of women using creative solutions and problem solving skills in the digital and technological world. The digital theme for International Women's Day motivated my use of the digital graphic design software, Adobe Illustrator. I aimed to feature green and purple tones as they are universally used to represent the feminist movement and symbolises the solidarity of coming together to mark the call for continued gender equality. The background is motherboard, also referred to as the backbone of a computer. The integration of the motherboard and the imagery of the woman standing on the ladder has been used as a way to communicate the idea of 'reaching' or 'climbing' to further find solutions and put to use problem solving skills, allowing her to further immerse herself in the technological world. Overall, I aimed to celebrate and promote females' knowledge and skills in the digital world, whilst encouraging and empowering more young women to immerse themselves in the evolving digital environment."
Visual Arts and Design Leader, Carla M

Lunchtime Soirée
"On Wednesday, 8 March, the Stage Band and Junior Choir presented a lively performance to celebrate International Women's Day. Both ensembles have been preparing their repertoire for Siena's Night of Jazz and used this day as an opportunity to perform, in support of female artists. The concert took place in the Amphitheatre which was attended by students and staff as they sung along to tunes by both groups, getting into the spirit of the day.
Overall, the concert was a huge success as the audience was united by the delightful energy of our young women sharing their advocacy for women in music. We hope to see more events like this from our Music Department in the future!"
Music Leader, Maddie C
Caritas Project Compassion Launch on Tuesday, 21 February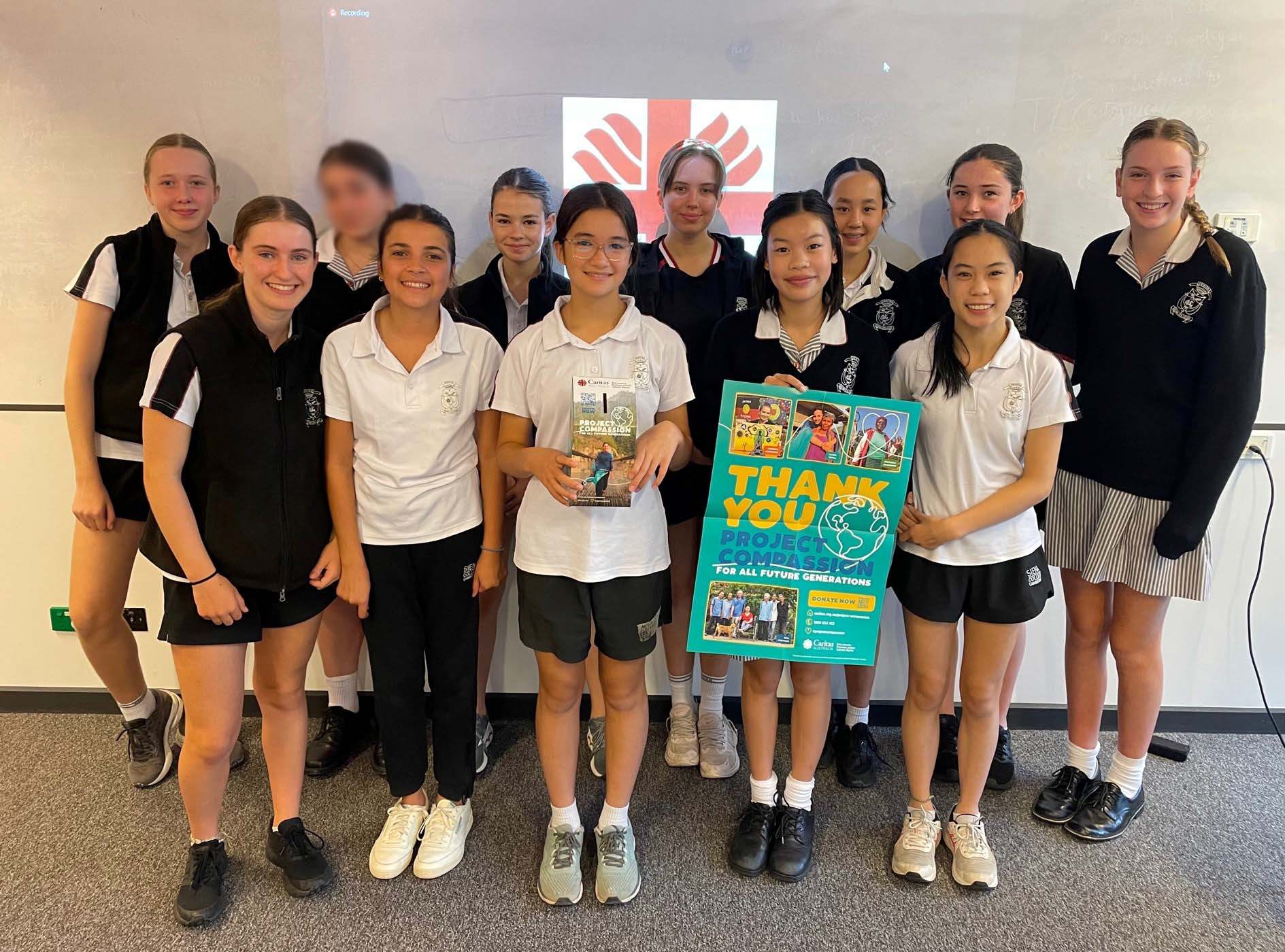 "This year, Siena has participated in the 2023 Caritas Project Compassion Launch in an online capacity. Caritas aims to help communities take control of their personal development and collaborate with groups to build on the strengths and resources available at a local level.
Supporting those in need is part of our history. Parishioners in the 1960s held local Lenten drives in the Dioceses of Sydney, Adelaide and Wagga Wagga to raise money for international missionary work and projects to alleviate poverty. These neighbourhood fundraising initiatives later evolved into Project Compassion, a major nationwide fundraising initiative for Lent.
This year's theme, 'For All Future Generations' reminds us that the good we do today extends to impact the lives of generations to come, therefore providing us with many Siena Service opportunities. To learn more about the 2023 Project Compassion, click here.
Please support Siena's Project Compassion fundraising efforts by donating online. This can also be done through College activities over Weeks 5 to 9 or scanning the below QR Code in support of your House."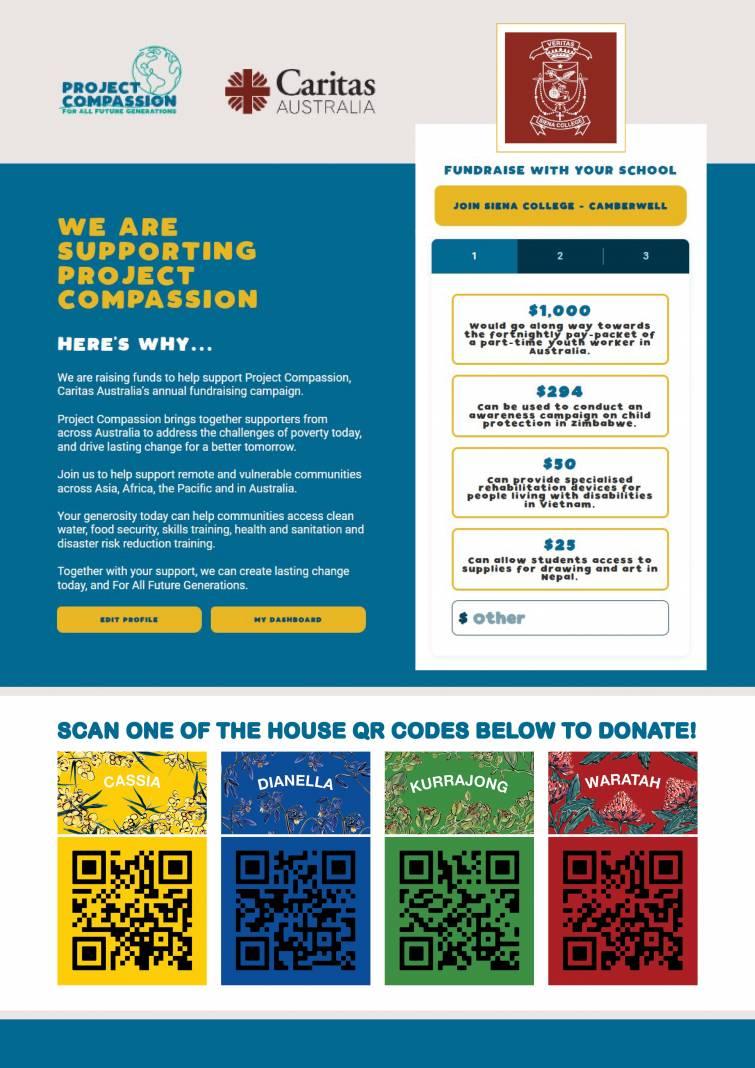 Year 9 House Captains, Eloise L, Annabelle M and Katie K