On Tuesday, 13 June, we held our VCE Drama and Music Performance Evening. It was a wonderful opportunity to come together as a community and celebrate our senior students as they showcased their talents and original performance work.
The Year 11 and 12 Drama students spent the semester learning about a range of eclectic performance styles including: Australian Gothic Theatre, Surrealism, Epic Theatre and Physical Theatre. Each class created a student devised ensemble performance exploring these styles, but using different themes and stimulus material as inspiration. Students spent time researching, brainstorming, scripting, rehearsing and building their playmaking skills.
The Year 11 Drama class used the novel, Picnic at Hanging Rock by Joan Lindsay and the 1975 Peter Weir film, as inspiration for performance. They created a very stylised ensemble performance capturing the dreamscapes, mystery and haunting mood of the original novel, and recreated imagery from the 1975 film.
In contrast, the Year 12 class created an energetic ensemble performance using the film, Toy Story as stimulus. Students used physical theatre to create a range of iconic toy characters, whilst also exploring themes of childhood and escapism, and how advertising and pop culture can impact on children growing up 'too quickly'.
Throughout the playmaking process, students developed the skills to work collaboratively as a team; they negotiated, delegated and problem solved from the beginning of the process, right through to the final performance. Their confidence as performers and performance makers grew during this process. Students also had opportunity to lead their group and build capacity to direct and delegate. These are not only essential skills as a performer, but also invaluable and relevant skills beyond the classroom, and in their future endeavours.
Congratulations to all students involved in the wonderful evening, both on stage and in a backstage capacity. A special thanks to Siena College staff, family and friends in support of the incredible journey undertaken by our VCE Drama students.
Congratulations Drama Australia Legend nominee, Sandra Siapantas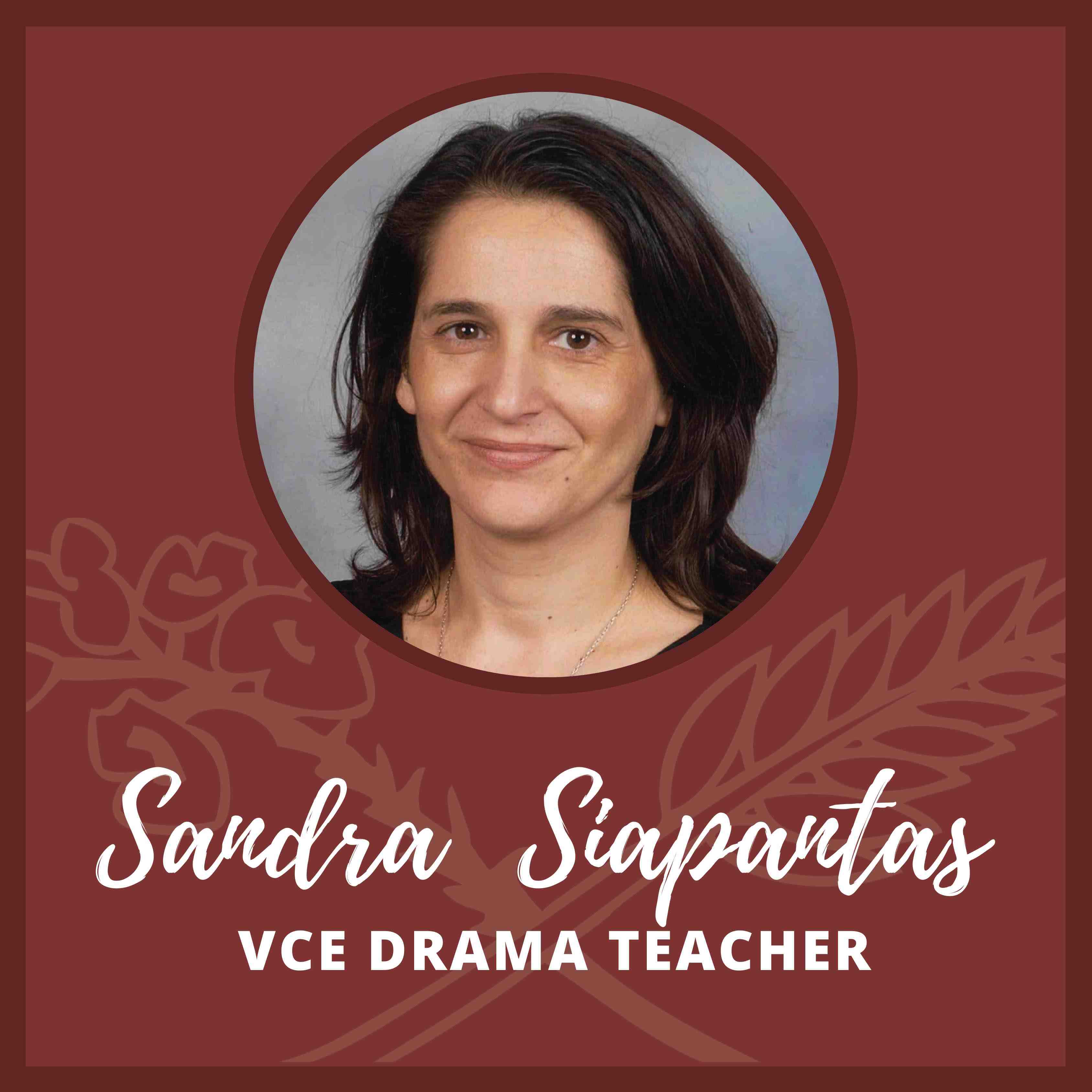 As a member of the Drama teaching fraternity with over thirty years of experience, Sandra is a remarkable individual who has demonstrated commitment, perseverance, tenacity and creativity over the span of her teaching career.

Sandra will be interviewed by Drama Victoria on Sunday, 16 July at Camberwell Grammar Performing Arts Centre, which will be on permanent record as part of the Drama Australia Memories And Memorials Archive (MAMA) project. In November, she will also be formally inducted as a MAMA Legend at the Drama Victoria Conference held at the Melbourne Graduate School of Education, Parkville.

Once again, congratulations Sandra on this wonderful milestone!