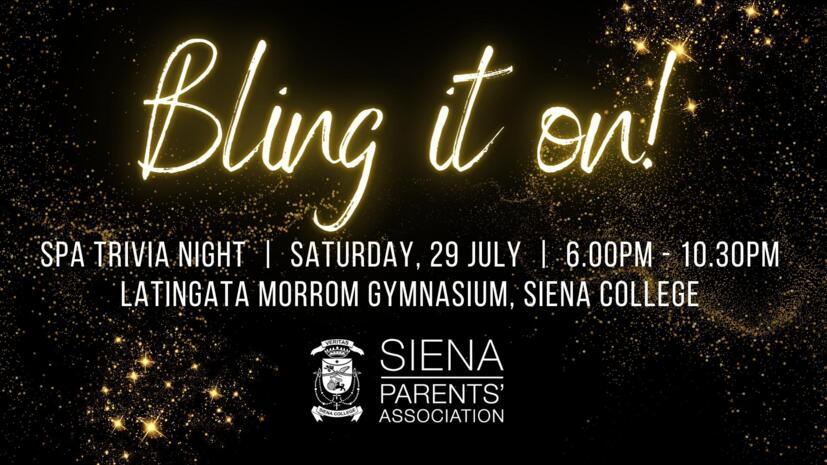 Dress with a touch of 'Bling!' and prepare yourselves for an action-packed fun night out at the SPA Trivia Night! Invite your friends from far and wide - all are welcome (you do not have to be a Siena parent to attend).
Trivia, Auction Items and Dancing!
All in the spirit of fundraising for our students! Be 'Cashed Up' to participate in Trivia Fun. Auction items can be purchased by card, however cash is king for Trivia games.
Trivia Night Schedule
6.00pm: Arrival
Get comfy with your BYO drinks and food. Determine your team's name and meet some new parents
6.30pm: First Round of Trivia
There will be three rounds in total, with some fun games in between
8.30pm: Trivia Concludes
Buy a key to unlock our bucket of booze (yes nothing responsible about that, buy a key and you could take home enough alcohol to last another lockdown)
8.45pm: Major Auction
No bid too small or too large! Just show us the money
9.00pm: Put your dancing shoes on and sparkle away with your bling!
DJ Pino will crank up the tunes. It could be time to bust out the Nutbush or the Bus Stop. No dance is too embarrassing we will not tell your kids!
Due to our neighbours, the evening will end promptly at 10.30pm. However, there is always an after party somewhere if you wish to carry on (you are never too old for that and do not be afraid to use Uber)