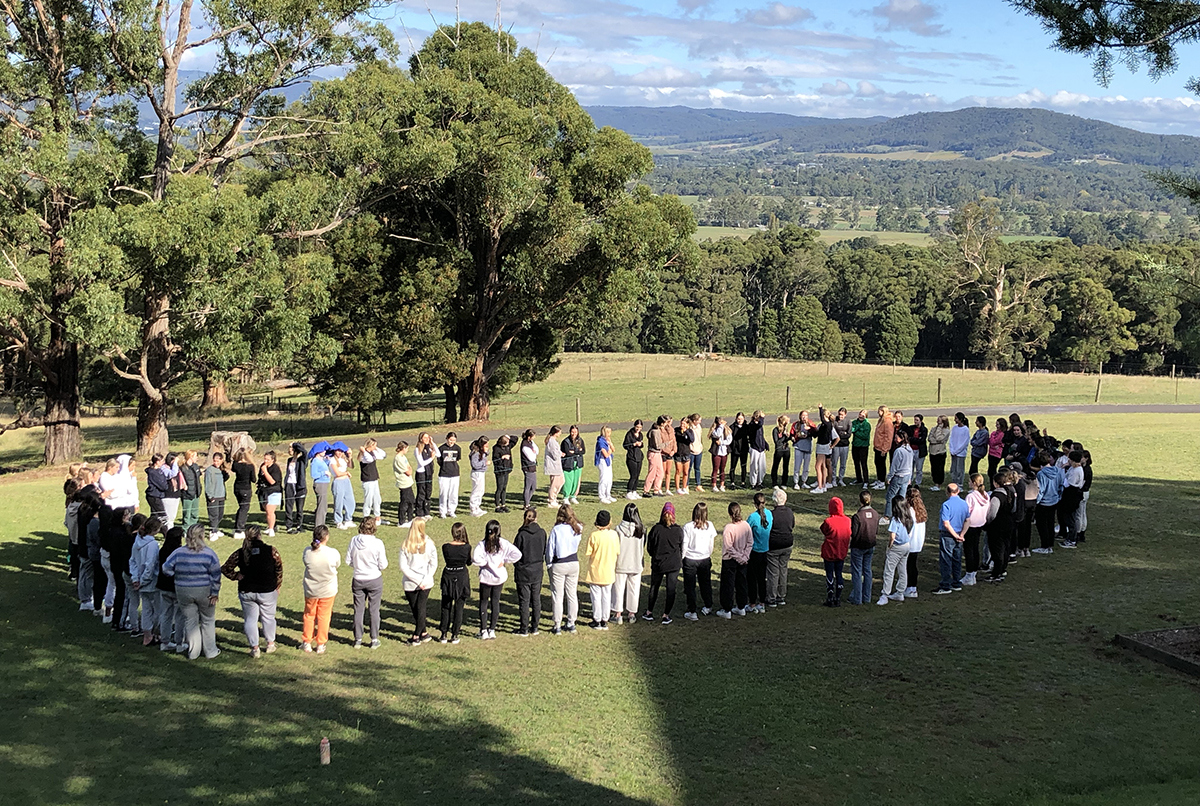 Year 12 Retreat (Horizons Week)

The final week of term was an ideal time for our Year 12 students to travel to Pallotti College, Millgrove to participate in their annual retreat. The weather was perfect, enabling many sessions to take place outdoors, including our reflective night walk.
Students were introduced to the act of writing palancas: short affirmations historically gifted to those going on retreat or pilgrimage. Across the days they wrote these to each other, emphasising encouragement and hope. Students gathered as a cohort to engage with guest speakers, Christine Cummins (Jesuit Social Services) and Linh Do (Climate Action Network) to reflect on this year's College Theme, In Truth and Action, and to view this through their unique Year 12 lens.
In small groups with members of the staff retreat team, they valued the time to initiate further discussion, journal about their wonderings and work on an individual 'Frame of Faith' as a visual reminder of their retreat experience. On our final evening, we participated in a liturgy based around our collaborative art activity, 'Web of Connection'.
St Catherine's Day

The Feast of St Catherine of Siena is a unique day of prayer, community building, outreach to our Dominican sisters and brothers in the Solomon Islands, as well as the fun filled Fiesta performances. As we had been unable to celebrate Eucharist as a whole school community for the preceding twelve months, it was wonderful to begin our special day with Mass in the Latingata Morrom Gymnasium.
The word Eucharist comes from a Greek word meaning thanksgiving, and on this day we certainly had much to be grateful for, including:
Our Dominican heritage and international family
The legacy of St Catherine
The many people who make up the unique community of our College: students, staff, parents, alumnae and community partners
In this Easter season, our guest, Christine Cummins responded to the Gospel by reminding us anew of our 2022 College Theme, In Truth and Action. In our current context, she encouraged us to explore the ways in which we are called to live out this theme, to be who God means us to be… and set the world on fire.
Our Dominican Family in the Solomon Islands

Each year on St Catherine's Day, we focus on responding to the needs of our Dominican family in the Solomon Islands; this community is challenged by access to full education, adequate food and water supply and, like so many islands, is very concerned about rising sea levels and further impacts of climate change.
All funds raised on St Catherine's Day will make visible our ongoing commitment to supporting our Dominican Sisters in their important work.