Students have commenced Semester 2 with enthusiasm and a willingness to focus on new learning opportunities. All Semester 1 exams have been returned and students have been given the opportunity to recalibrate their goals for each subject. They are encouraged to track their progress towards attaining their goal in the coming weeks to ensure success.

Apart from new learning opportunities, this term will also involve lots of important decision making as we begin to think about learning possibilities in 2023. Whilst this can be daunting for some students, there are plenty of resources provided to ensure students can make an informed decision while navigating the Subject Selection process.
2023 Subject Selection
The 2023 Subject Selection process has commenced. The Subject Selection Tile is now available on the Student and Parent Dashboards via Siena Central. It contains all the relevant information regarding the Subject Selection process including videos, PowerPoint presentations and Subject Handbooks. Consideration of future directions requires planning and research, so students are encouraged to discuss their options with their Subject Teacher or the relevant Head of Learning. Students moving into Years 9 to 12 should consult the Subject Handbooks, as they outline course requirements, planning documents and subject specific information.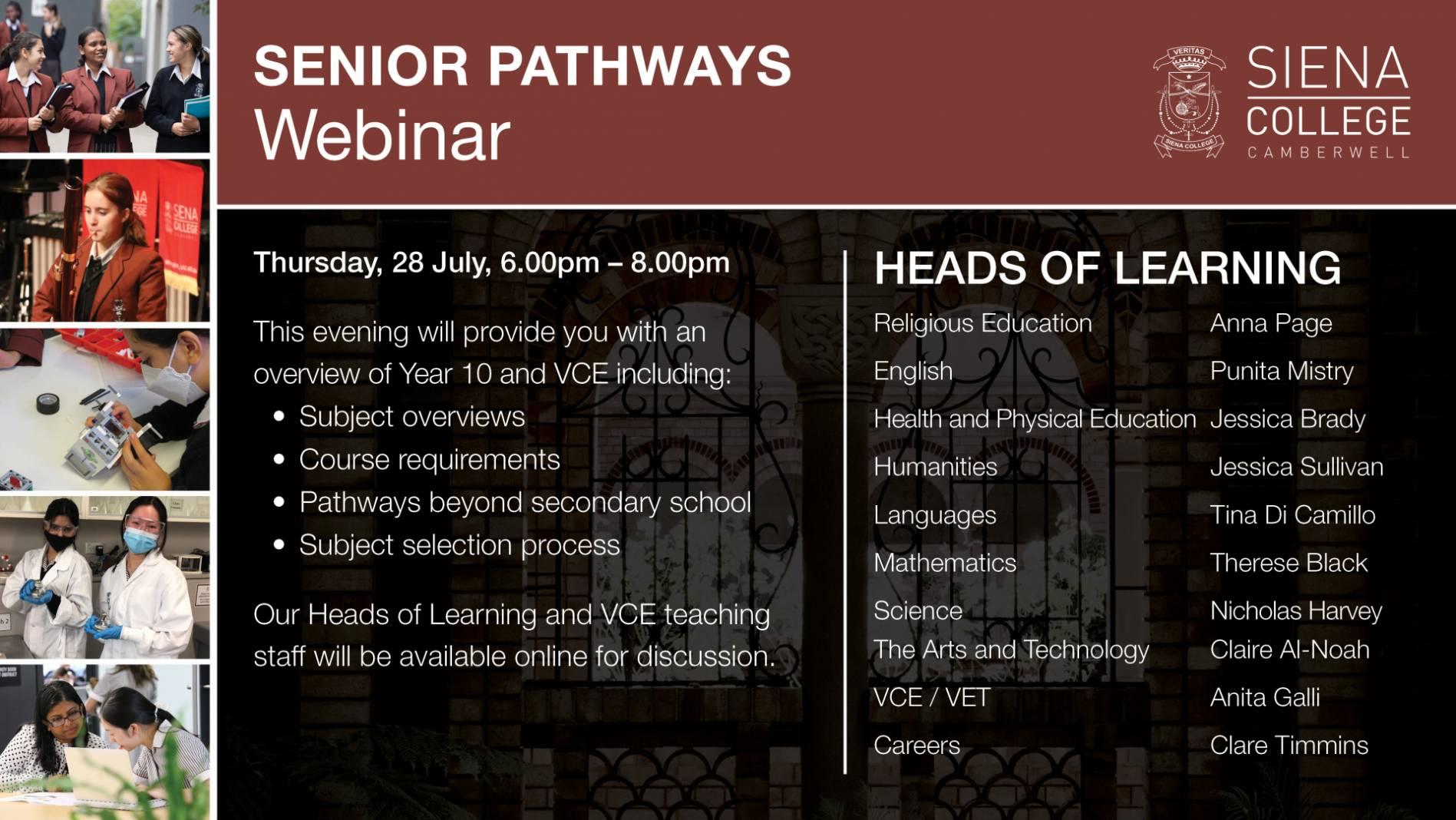 Year 9 and 10 students and their parents are invited to attend our Senior Pathways webinar on Thursday, 28 July, 6.00pm to 8.00pm. The webinar will be recorded and made available on the Subject Selection Tile. Students and parents from other year levels may attend, however, please note the information presented will be targeted towards current Year 9 and 10 students.
Please note that the Subject Selection Form must be completed with all required signatures prior to the Transition Interviews (Years 9 to 11). Parents are also invited to attend this interview. Please see below for key dates as relevant to each year level:
Important Dates
19 July: Years 7 to 11 Subject Selection Information presentations during Wellness
20 July: Years 7 to 8 online access codes available from Middle House Group teachers
27 July: Year 11 into 12 Subject Selection Interviews (Parents are invited to attend)
28 July: Senior Pathways webinar for current Year 9 and 10 students (Parents are invited to attend)
1 August: 2023 Year 12 web preferences due by 4.00pm
1 August: 2023 VCE Accelerated Studies applications due by 4.00pm
5 August: 2023 Years 7 to 9 web preferences due by 4.00pm
8 August: 2023 VCE Accelerated Studies applicants notified by 4.00pm
10 August: Year 10 into 11 Transition Interviews (Parents are invited to attend)
11 August: Year 9 into 10 Transition Interviews (Parents are invited to attend)
12 August: 2023 Years 10 to 11 web preferences due by 4.00pm
Changes of Date: Learning Conversation (Parent Teacher Interviews)
The Term 3 Learning Conversations dates have been changed due to the amended VCE GAT date. Further details will be published later in the term:
Tuesday, 6 September: evening
Wednesday, 7 September: day and evening
Unit 3/4 Trial Exams
Years 12 and 11 students undertaking VCE Units 3 and 4 studies in 2022 are required to participate in the VCE Trial Exams scheduled for Monday, 26 to Friday, 30 September. The trial exams will be conducted under the same conditions as official Victorian Curriculum and Assessment Authority (VCAA) VCE. Please note, trial exams take precedence over any external revision lectures and seminars and will not be rescheduled for students who do not attend. The exam schedule will be published in coming weeks.
Wishing all students an engaging and enriching learning experience this semester.