"Change will not come if we wait for some other person or some other time. We are the ones we've been waiting for. We are the change that we seek." Barack Obama


This Lent, Siena students and families have the opportunity to be the change that our world needs and seeks at this time. In addition to supporting Caritas' Project Compassion throughout the Season of Lent, Siena College is once again collaborating with St Dominic's Parish to support the work of Brigidine Asylum Seekers Project (BASP). BASP is a Melbourne based initiative by the Brigidine Sisters which aims to:

Provide hospitality and practical support for people seeking asylum
Actively network with like minded individuals and groups who are working for justice for asylum seekers
Promote advocacy for the rights of people seeking asylum
Engage in education about asylum seekers' issues
Students are asked to contribute donations of the following items:
Middle House Groups
Sugar
Plain flour
Olive oil
Tinned fruit
Tinned tomatoes
Basmati rice
Sweet and savoury biscuits
School snacks
Salt and pepper
Spices (cinnamon, ginger, coriander)
Senior House Groups
Shampoo and conditioner
Soap
Toothpaste and toothbrushes
Deodorant
Sanitary pads
Toilet paper
Toilet cleaner
Bath and shower cleaner
Washing detergent
Dishwashing detergent
Window cleaner
All purpose cleaner
Sponges
Scourers
Paper towel
Students should bring their donations to House Group. All items will be collected in the final week of school and distributed by BASP to households in need.
Palm Sunday Peace Walk
Additionally, Siena students and families are invited to show their support for refugees by attending the Palm Sunday Peace Walk. This annual event draws people from many faith backgrounds to march in support of non violent approaches to contentious public policies.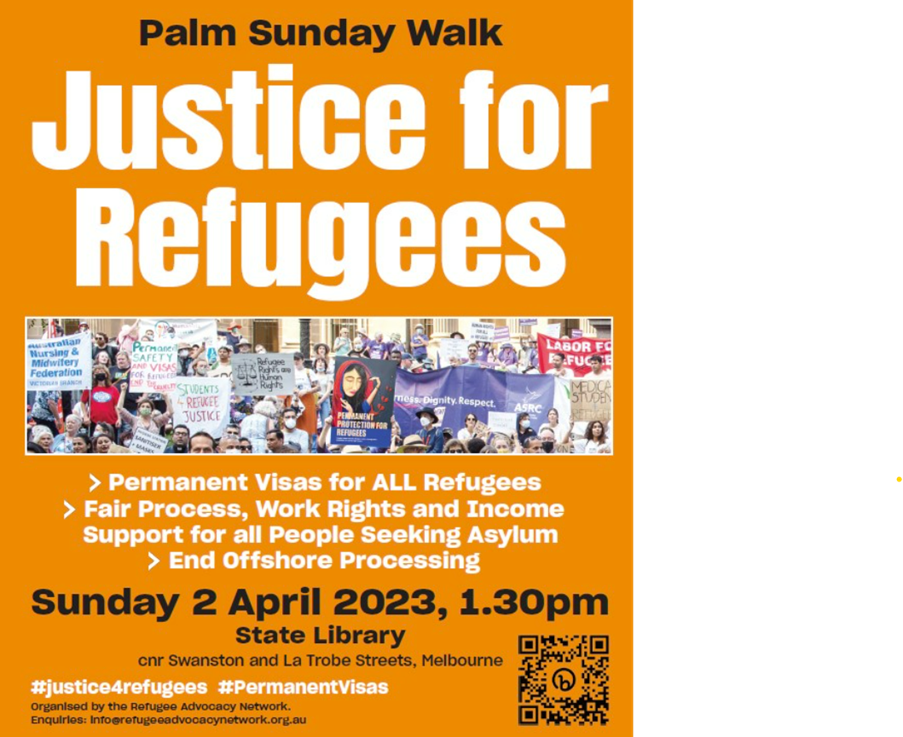 This year's walk will call for Justice for Refugees: Permanent Visas for all, Fair Processes and income support for people who are seeking recognition as refugees. While the change of government at the Federal Election last year has brought hope for more compassionate policies, thousands of refugees and people seeking asylum are still in limbo waiting for certainty about their future.
Siena College will be walking alongside Catholic Alliance for People Seeking Asylum and Catholic Social Services Victoria in addition to other Melbourne schools and organisations, as well as members of the public.
Date and time: Palm Sunday, 2 April 2023 at 1.00pm
Where: State Library of Victoria (specific meeting point details to follow)

Please email Head of Justice Education, Bronwyn Ilott: bilott@siena.vic.edu.au if you would like more information.