VCE Awards Assembly
On Thursday we gathered as a College community, both in the gym and live streamed to classrooms, to celebrate the Class of 2020 VCE Awards. It was wonderful to gather in acknowledging the great success of so many students in that most extraordinary year. 2020 College Dux, Elena Cruz spoke powerfully of the 'ever mounting sense of trepidation that 2020 brought, arduously climbing the VCE mountain while simultaneously balancing on the precipice of a pandemic'. Elena also spoke on behalf of all students in acknowledging the incredible commitment of staff who were so steadfast in their belief and support of every student.
We warmly congratulate all students from the Class of 2020. As they prepare to enter tertiary courses and prepare for their future endeavours, we wish them abundant blessings and trust that Veritas will guide them in the way of truth.
Our 2021 College Captains interviewed Elena for our podcast series and that link will be published shortly. I am sure all Year 12 students will be interested in Elena's insights and advice.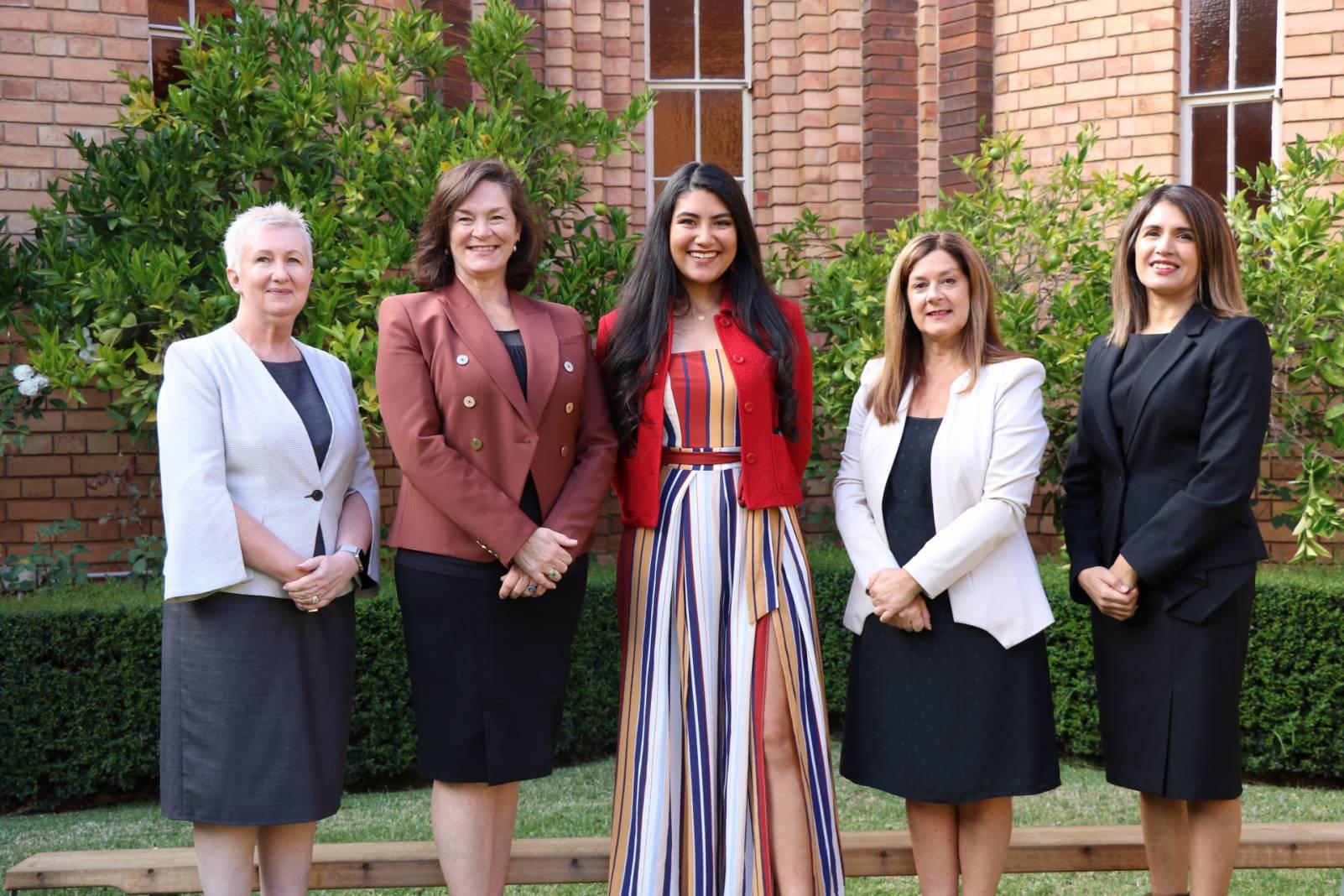 Student Leadership Formation
Student Leaders in senior portfolios met with the Principal, Deputy Principals and Head of Student Formation for morning tea on Friday. The purpose of the gathering was to affirm their leadership work to date and check in with progress reports on many areas of College activity. The leaders spoke of their appreciation and joy in being able to engage with and lead events that were unable to occur last year. Student leaders are currently working on preparations for the Swimming Carnival, Project Compassion events and Fiesta celebrations for St Catherine's day. We commend all student leaders, at every year level, on their 'leadership as service' approach.
2021 Senior Student Leaders
STUDENT EXECUTIVE

COLLEGE CAPTAINS

Chloe Barker

Harriette La Motte

CASSIA HOUSE CAPTAINS

Isabella Boussioutas

Lucy Hodder

DIANELLA HOUSE CAPTAINS

Emma Highfield

Nicole Rozario

KURRAJONG HOUSE CAPTAINS

Grace Hoy

Grace Kim

WARATAH HOUSE CAPTAINS

Sophia Bolton

Emily Bor

SPORTS CAPTAINS

Victoria Zikas

Emma Veal

SOCIAL JUSTICE TEAM – VERITAS LEADERS

VERITAS LEADER – SOCIAL JUSTICE

Hayley Di Stefano

VERITAS LEADER – ENVIRONMENT

Ella Graham

VERITAS LEADER – SOCIAL WELFARE

Juliet Guthrie

THE ARTS TEAM

ARTS LEADER – MUSIC

Aisha Bowker

ARTS LEADER – DRAMA

Anastasia Barres

ARTS LEADER – VISUAL ARTS AND DESIGN

Jasmine Skutela

COMMUNICATIONS TEAM

COMMUNICATIONS LEADER – PUBLIC RELATIONS

Anna Griss

COMMUNICATIONS LEADER – DEBATING AND PUBLIC SPEAKING

Amanda Marasco
2021 Golf Day
Our thanks to the many sponsors and participants who took part in the Siena Golf Day held at Kew Golf Club last Friday. The generosity of all made this a wonderful gathering, with all funds going directly into the Equity Scholarship Fund.