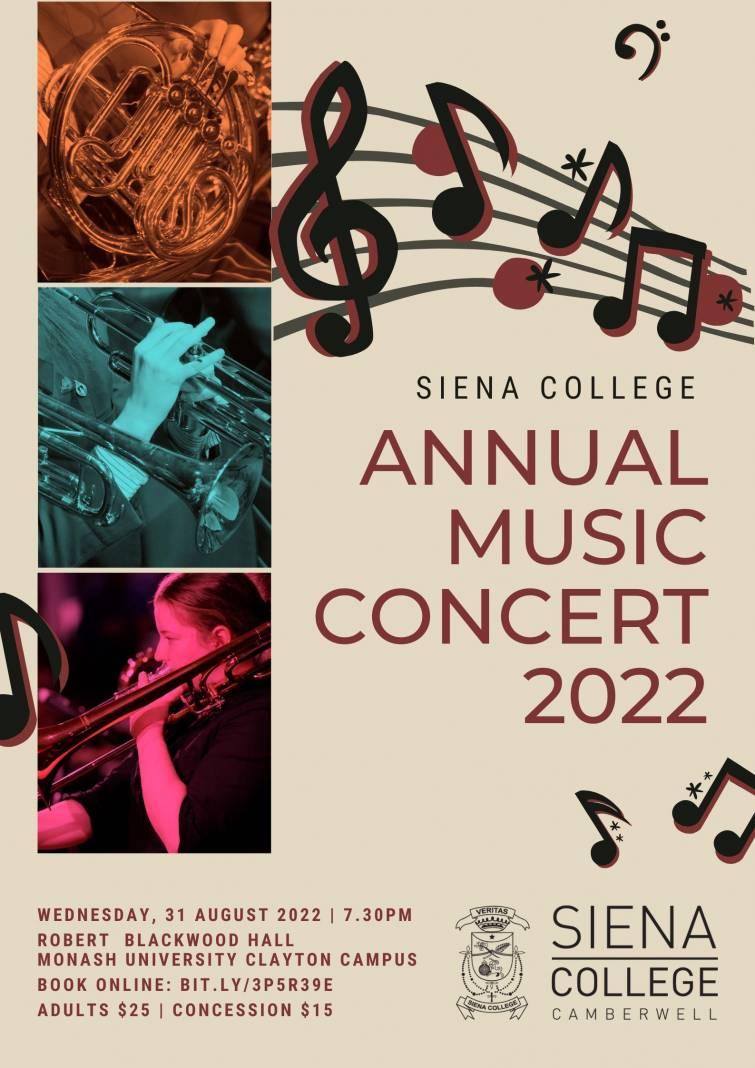 Annual Concert: Wednesday, 31 August

There is great anticipation for our Annual Concert after two years without one! The event will be held at Monash University's Robert Blackwood Hall and will feature Siena's many ensembles and choirs. We have been rehearsing and preparing throughout this term and are now counting down the days till this major school event takes place. Parents are reminded to complete the EdSmart permission form and to purchase concert tickets here. All are welcome.
Music Camp and Performing at Catholic Regional College

We were thrilled to take ninety-eight students on Music Camp over the weekend of Saturday, 6 August to Monday, 8 August. We set off on Saturday morning for Rutherford Park, Blampied, where we unpacked and got right into rehearsals and sectionals for Symphonic Band, Junior Band, Junior Choir, Junior Strings, St Cecilia Strings, Groove Train and Sisters of Swing!
It was amazing to listen and watch students improve their instrumental and ensemble skills. The legendary Trivia Night led by Ms Redman was a lot of fun for all. We worked and played hard, and made many new friends over shared experiences. A key highlight involved all students and staff joining together as a Super Band to play the Top Gun classic, Highway to the Danger Zone. It was also a wonderful surprise to have Mrs Hanney visit on Sunday and listen to our rehearsals. Many thanks to our students for their energy and effort, and to our staff for working tirelessly to provide an incredible experience.
On Monday, 8 August, we visited Catholic Regional College to perform for their Year 7 cohort. On entering the school, we noticed a St Catherine of Siena sign on the front gate and we felt an instant connection. Their College band students joined our Super Band for a fabulous performance and it was a wonderful opportunity for Siena ensembles to share their love of music with another Catholic school.
Victorian School Music Festival
Wind Orchestra and Symphonic Band have participated in the Victorian School Music Festival this week. This is a wonderful opportunity for our ensembles to perform at Hawthorn Arts Centre, participate in an onstage workshop with an expert clinician, and listen to other school bands perform. Thanks to all staff and students for their efforts!